– = track : = album 2022-03-31 Broadcast – Petal Alphabet (2006 Demo) | YouTube (audio), Aquarium Drunkard article 2022-03-31 Broadcast – Where Are You? (unreleased demo) | SoundCloud 2022-03-30 Broadcast: Mother Is The Milky Way. Re-issue of the 2009 tour-only limited release. | Bandcamp 2022-03-30 Broadcast – The Book Lovers | Bandcamp 2022-03-30 Beach Bunny – Oxygen. From Emotional Creature, out 7/22.…
2022-02-27 Iron Maiden – Iron Maiden, per Torch 2022-02-27 Bob Vylan – We Live Here, per Matt 2022-02-25 LL Cool J – Around the Way Girl. Heard at Ardent Craft Ales. 2022-02-25 Doe St. – Race to 25, from Doe St. @TurntableReport on Twitter. 2022-02-23 Mark Lanegan Band: Bubblegum, per Matt 2022-02-22 Mark Lanegan Band – Ode to Sad Disco. Annie Zaleski on Twitter. 2022-02-22 Mark Lanegan: The Winding Sheet.…
I made the pilgrimage to B&H. Don't want to leave! @jack @alexjj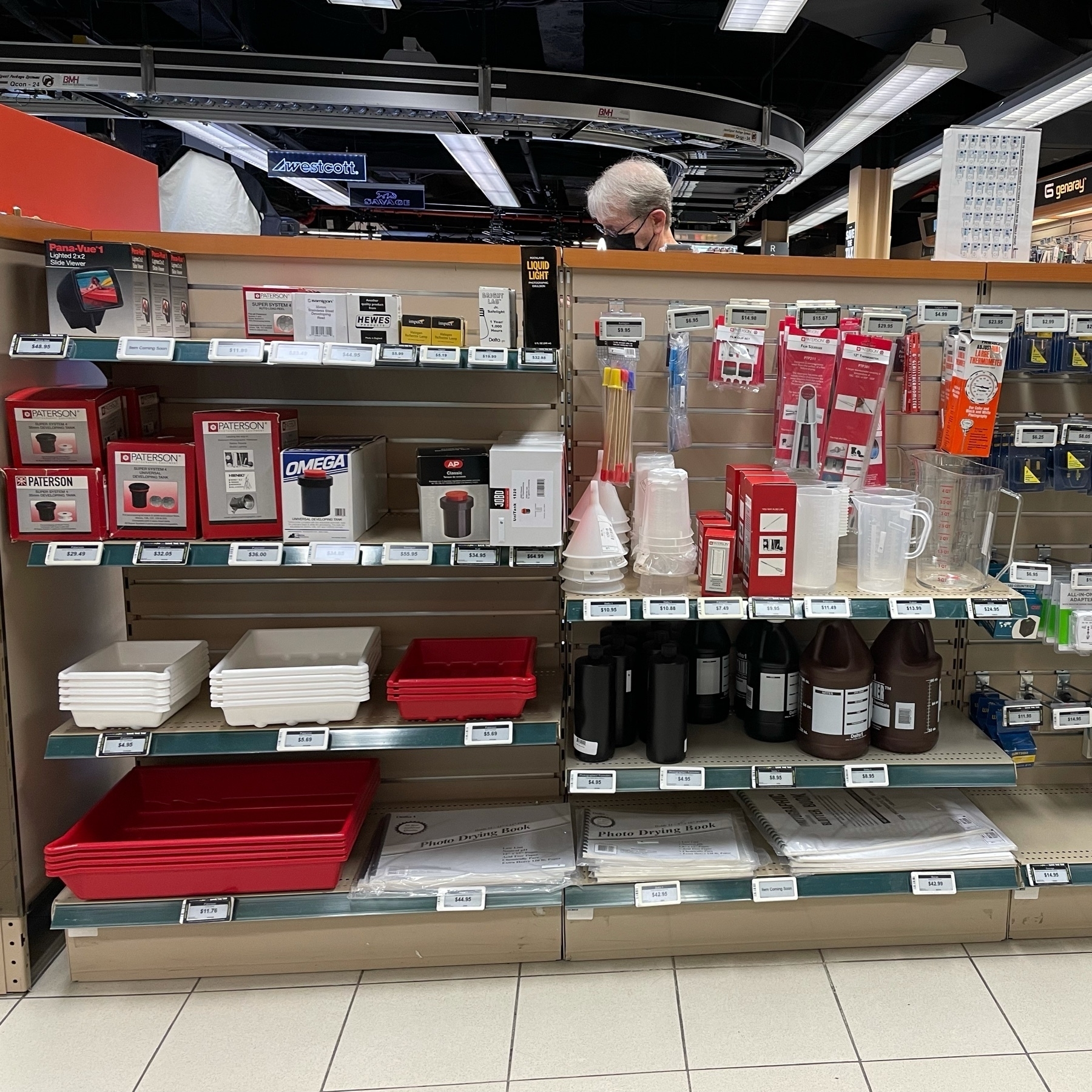 I don't understand how to use blocks vs. pages vs. documents in Craft. I may just need to use it more, but right now it's not clicking, and is making Roam and org-roam look simpler in comparison. Will keep trying, though!
Well, thanks a lot @jack - Now I've opened the Pandora's box of Craft. ;)
I'm 50 and have been typing "incorrectly" for 38 years, ever since I got a TI-99/4a computer. All this time I've been using nine of my 10 fingers. When I pay attention, I can get up to around 65 WPM. Is it worth learning to touch-type now?
Wow, @jack – I can't believe I waited this long to get a fountain pen! Bought a red Lamy Safari (and a Rhodia Reverse Book) today and I love it. Thank you for the push. 😊
I dug my 2004-era Palm Zire 72 out of a drawer the other day for the first time in years. I thought I'd lost all the data on it until I remembered that I always used to back it up to the SD card which was still sitting in it. I restored the entire contents from that card and everything came back within a few minutes. DateBk5 calendar and to-do data, months of DayNotez journal entries, Pocket Quicken ledgers, blurry 1.…
Now this looks fun, and an excuse to buy a not-that-expensive photo printer:
Why do it myself instead of using a printing service? That paper, for one. I've never found a single shop that offers paper I like for small prints. But also because, as I said earlier, for me, the joy comes from creating these, slowly, on my own time. It feels like craftwork and connects me to the printed images.
Thank you to @tgray for sharing his presets and knowledge about how to make photos from the Ricoh GR look even more amazing in Lightroom. The camera arrived yesterday and it is definitely the right one for me.
One thing I don't know how to address in Johnny.Decimal: Where to put things along the spectrum of widely available/low security <—> reduced access/high security. Oh, and also the small capacity <—> big capacity continuum. Like, I have a small pile of non-sensitive random files in Google Drive that are mostly there to share with people, a bunch more less-random stuff in Dropbox that stays there because it's easy to sync with and edit on mobile and I pay for lots of space, and a ton of more sensitive documents only on my MacBook and an external drive where I have gobs of space and certain tools only available on the laptop. I don't think I'm supposed to duplicate all of the same folders across all these storage platforms, but I guess any categories + IDs that do make it to those platforms are supposed to stay consistent, even if the platforms hold different pieces of the entire J.D universe of files?
To think about something other than the news for a minute, this thread from The Museum of English Rural Life is delightful and right up some M.b-ers' alley: twitter.com/TheMERL/s…
This looks like loads of fun. Just wish I had seen it a few days ago!
Alan Roe's Guide to 2020 Holiday Broadcasts on Shortwave (Version 5 Final) | The SWLing Post
Ok FINE. I'll pronounce it "soo-doo", since the dude that invented it (Bob Coggeshall) says it that way. youtu.be/LaAwl3HN5…
Sometimes today's notes in the Field Notes bullet journal are split across pages and it takes more than one shot to get them in the iPhone. Depending on where the day starts and ends on whichever paper pages, I might end up with two square images to capture the day's scribbles. I'd rather see those in Roam side-by-side instead of as images stacked on top of each other. I made a Combine Images Horizontally iOS Shortcut to accept one or more selected images in the Photos app, combine them horizontally, save them as a new photo, and then go to the most recent photos in the camera roll to get out of the "image selection" mode.…
I'd love a journal app with built-in limitations on the number of lines per day, the way Tot is limited in its total number of notes. Give me 10–12 lines/day and I'll fit all the "this happened today" bullets in. Roam is great for notes, but it gives me almost too much freedom.
My friend Andrew emailed me the other day to ask how I was liking Roam Research now that I've gone all-in on it. It turns out, I had some thoughts. :) He gave me permission to share my lengthy reply to him. It helped me think through some stuff, and I hope it's useful to others! Hi Andrew! First of all, thank you for taking the time to wade through my Roam!…
I wish my wife and I could go to the library again and just hang out and browse and read, without masks or worry.
While trying to add the new Samsung T5 SSD (formatted with APFS) to the Backblaze Backup preference pane on macOS Mojave, I got this error message: Backblaze could not create a read-writable '.bzvol' directory on that hard drive. Permissions on that drive are 774, and for that .bzvol folder they're 777. Also, the drive is set to "Ignore ownership on this volume" anyway, so I didn't think it was permissions.…
For me, turntables are the Emacs of audio: effort + research to understand what at first looks simple, endless tweaking, lots of variables and settings, inefficient, require manual work, glorious once they're tuned, easy to obsess about, and more fun than any other similar tool.
Five days into the Keychron K2 and here's what I think. It's definitely a good "starter" keyboard for someone who has only used membrane keyboards, or last used a mechanical 30 years ago (me). The good: It's very nice looking, and I got the white LED version with the plastic case and ABS keys. The orange ESC key is beautiful, but only when the LEDs are off. (When they're on, you can see how thin the keycaps are because the light shines through the orange.…
This post is for Kevin on Micro.blog, who is having issues where his MacBook endpoint in Roon shows up as a green dot. This Roon page about signal paths explains what the green dot means: While the Mac software mixer does not do anything too gross, it might be performing software-based volume adjustments or sample rate conversion before playing the audio. As such, we can't guarantee that the output quality is lossless, so we label it as "High Quality".…
Last weekend we were cleaning out and rearranging. I collected all the journals I could find and managed to fit every one in that blue tub. I love that these are all sprawled out on the kitchen floor in this decidedly unsexy, un-minimal photo. What a glorious mess!
I can't believe I didn't care about seeing "Hamilton" sooner. I watched it (for the first time) along with the rest of the world on Disney+ on Friday night. I didn't expect historical accuracy or the full context of everything else going on at the time, so I'm ok with it being an incomplete picture of Hamilton's virtues and flaws, and a rosy, shallow picture of the American Revolution. But as an artistic feat of vision, acting, singing, craft, composition, lyrics, dance, and set design, it's utterly perfect. Overwhelming, even. I just don't know enough about theatre to have any idea of how all those facets of a production can come together so perfectly and in the right sequence to pull off a show like this, but watching it gave me a sense of what's it's like to experience a bunch of Broadway luminaries at the top of their powers. Wow!
Well, that's done! @canion
As long as I've been on here, I'm still delighted every time I make it far enough in the timeline to get to the "Show More" button, and I remember it's up to me whether I keep going.
I need to remember this: Even though I'm not what we regard as an essential worker, I can still try to do my job in a way that makes it as essential as possible.
Dammit I was this close to—no, actually, I was in the process of—abandoning org-journal in favor of dumber, easier Markdown files (using Drafts and BBEdit on the Mac and Editorial on iOS) to track daybook-things like when I paid bills and put paper checks in the mail. I thought org-mode files were too ugly when viewed in any non-org-aware text editor, especially on the space-cramped iPhone. I thought, "well, if nothing else, all this COVID-19 stuff is making me realize that life is too short to waste any more time than necessary on having a perfect system, and I might as well abandon having a perfectly consistent format since getting info into and out of Markdown is so easy, and I know I'm never going to back-enter all the old Markdown things into org-journal, so anything I search for in Emacs is going to be incomplete anyway, so why bother?…
Oops, @danielpunkass - Forgot to attach the photo!
This Twitter thread from SwiftOnSecurity about "data archival and integrity across decades" gives me chills. I've done things similar to almost every example here.
I saw this updated icon for Mixcloud on my phone and thought "ooooh what Emacs-related thing did I download and forget about??" No such luck.
The weird thing about not writing a fresh Today task list on paper every morning is that I don't know how far behind I am day-to-day (or how much I'm keeping up, which is rare anyway). If I do make a fresh list and move yesterday's undone things forward, I have better clarity about how much is slipping and I feel worse about it. I can't win.
I have to write this all down to get it out of my head and make some sense out of it. I have that persistent, nagging feeling that all of my journal notes are splintering (because they are). It'd be funny to diagram this out like they do for rock band personnel timelines in Wikipedia. First there was Momento on iOS. Its layout from about 2011 is still my favorite digital journal layout ever.…
Republican senators are a bunch of entitled, arrogant babies. If part of many peoples' jobs requires sitting in boring meetings that they'd rather not be in, these assholes can at least pretend to pay attention to the "trial" when they're paid by the taxpayers to be there.
We saw the VMFA's Edward Hopper and the American Hotel exhibit last night. This is Jo Hopper's diary for winter 1952–1953, volume 19. It's like an anti-bullet journal.
Roam is like microblogging for your notes. You don't have to have a title for each thought; you can just keep adding bullets. It makes even TiddlyWiki look like too much work when you have a random thing you want to add, but TiddlyWiki is way better for distilling the messy Roam stuff down for public consumption (for me).
Stewart Copeland made me notice drums, and Charlie Watts made me want to play them. Neil Peart made me want to learn how. He died on Jan. 7. Listening to Moving Pictures at work last Friday after I heard the news, I teared up towards the end of "Red Barchetta". It sounded like Peart's soul was running up a staircase of drums to the clouds. I've heard that song probably a hundred times before and this was the first time Geddy's voice sounded sad, from out of nowhere.…
Roon is eating my turntable ALIVE.
Rest in peace, Neil Peart. I don't even know where to start with this one. He's the whole reason I ever started playing drums. www.cbc.ca/news/ente…
This video demo of Roam is just incredible. It's like watching someone use Emacs or Vim when I don't understand the keyboard shortcuts, but with the ability to slice and dice and hyperlink everything in real time.
Bianna Golodryga left the USSR at 18 months old to live in Texas with her parents. This clip of her speaking fluent Russian to Costa Ronin of 'The Americans' is making me want to pick my Russian lessons back up on Babbel. It's like music!
If I were to buy an iPad Pro 12.9" on say, the day after Thanksgiving, I assume 256 GB is the more future-proof choice and 64 GB is skimpy? Hypothetical iPad would be used at home for drawing/painting, Photoshop, maybe Lightroom, watching TV/movies, and the Minimoog Model D app.